Your basement can be more than just an oversized storage closet! With help from the professionals at Tri State Mold Solutions, you can take your dark, damp basement and turn it into a beautiful, light-filled living space. Whether you'd like to add an extra bedroom, remodel your basement into a rec room, or just finish the space and figure out what you're doing with it later, we're the basement remodel contractors for the job. Bringing you the experience and expertise gained over 30 years in the industry, Tri State Mold Solutions can help make your basement remodeling project go smoothly from start to finish. Take advantage of that wasted space in your home—call our staff remodeling contractors for all of your basement finishing needs.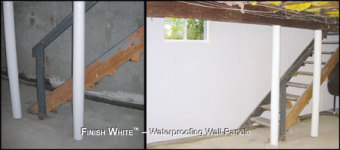 Unlike other remodel experts, Tri State Mold Solutions specializes in all parts of the basement finishing process. We'll start by evaluating whether you have a moisture problem in your basement, as water damage can ruin a finished basement fast! If you have wet basement problems, we'll install our effective basement waterproofing system to make sure leaks and moisture issues are a thing of the past. We can also provide egress window installation. Installing egress windows creates outside access to your basement and serves as an emergency exit in case of fire. Required by building code in most areas, egress window installation also allows natural light into your basement, making it seem larger. The Tri State Mold Solutions remodeling contractors will finally finish out your basement with our innovative panel system that goes up fast and even provides superior performance. Making it easy and affordable to turn your basement into livable space, we're your one-stop shop for remodeling basements large and small.
While many basement remodel contractors use traditional stick construction to finish your space, Tri State Mold Solutions uses a special basement finishing panel system. That's because standard construction uses drywall and lumber that can mold, no matter how good your basement waterproofing system. But our specialized basement remodeling system utilizes materials that will never mold, helping protect your family and your home from the dangers of mold growth! The eco-friendly, paperless, seamless Matrix Basement System panels bring you great looks and performance. Their benefits include:
Green construction: Made from magnesium oxide board and polystyrene foam, the panels use no PVCs, fiberglass, or other potentially hazardous materials.
Moisture resistance: Because the panels are completely paperless and designed to be impervious to moisture, your newly finished basement walls will be safe from both mold and water damage.
Built-in insulation: Structural insulation creates a unique all-in-one construction that makes finishing your basement easy and fast!
Seamless installation: Other similar basement finishing systems require an ugly seam every couple of feet, but with the Matrix Basement System, you get gorgeous walls that look just like the rest of your home. Featuring a special seam-finishing process, these panels provide truly seamless beauty.
Let us bring you superior appearance, practicality, and mold resistance with our basement remodels. From basement waterproofing to installing your Matrix Basement System walls, Tri State Mold Solutions is ready to ensure remodeling your basement is affordable and hassle-free. And because we do the job right the first time, you won't have to worry about a basement leak destroying your newly finished space or mold growth threatening your family. We take a long-term approach to remodeling basements by preventing the problems before they develop! Have questions? Call Tri State Mold Solutions or send us an e-mail today. We'd love help.