Water in your basement is more than just a minor pain! It can also cause some serious problems for your home and your family. Regardless of whether or not your basement is finished, the incursion of water can lead to major structural damage, mold growth, and other issues. Keep the water out and keep your property and loved ones safe with a basement waterproofing system from Tri State Mold Solutions. Providing wet basement solutions for both commercial and residential properties, our staff of basement contractors can help you get your basement dry once and for all. In fact, we're so confident in our services that when we waterproof basements, we include a full lifetime warranty! Contact us today for the basement and foundation pros that will get your basement dry and keep it that way!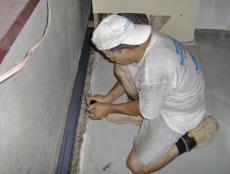 While water can find its way into your basement through cracks in the foundation, even foundations without a single crack can become victims of major leaks. That's because the hydrostatic pressure in the soil around your foundation can force water in along the seam between your footings and your foundation floors/walls. But with the basement and foundation contractor experts at Tri State Mold Solutions on your side, you won't have anything to fear from these basement leaks any longer. We install fully customized basement waterproofing systems, and we put our 30+ years of experience to work for every customer. Utilizing only precision workmanship and top-quality products from Basement Technologies, we can waterproof basements large and small. So stop living with a wet basement. A dry basement is within reach with the affordable, effective solutions from Tri State Mold Solutions.
Our basement contractors combat hydrostatic pressure with an interior French drain system. Designed to collect the water as it enters your home, these basement waterproofing systems collect and reroute the moisture out of the building before it can do any damage. Here's how it works: The Tri State Mold Solutions team will begin by cutting a trench along the inside perimeter of your basement floor and installing a perforated pipe inside that space. Now as water tries to work its way into your basement, it will flow into this pipe instead. The water runs inside the pipes to a sump pump that clears the water to the exterior of your home. It sounds complicated, but your interior French drain basement waterproofing system is really quite simple and will ensure your house stays dry. You can even finish the space right on top of this system without any problems, so it won't be any impediment to remodeling your basement into a rec room or office in the future.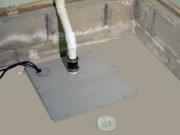 Unlike basement waterproofing companies that only offer a one-size-fits-all solution to waterproof your basement, Tri State Mold Solutions provides a customized design that's tailored to your specific needs. We offer sump pump installation in three difference sizes (up to 3/4 of a horsepower) to make certain you have the equipment you can rely on to keep the water out. And with a basement waterproofing system that ensures your property stays dry, you shouldn't have to worry about water in your foundation causing mold growth or structural damage. Rest assured with help from our basement experts: the Tri State Mold Solutions team puts our 30 years of experience to work for you for precision installation and superior service. We never subcontract out projects, so you know that your basement waterproofing is being performed by one of our trained professionals. We're ready to waterproof your basement so call today to get started!