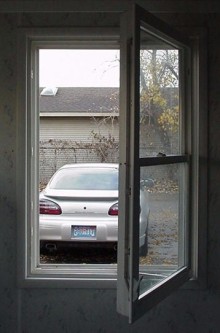 Whether you just use your basement for storage or you're planning to add a guest bedroom in the basement, you need to know about installing egress windows. These large windows double as emergency exits for your basement, providing direct outside access to enable escape in the case of an emergency (like a fire). Required by code in most municipalities, egress window installation can actually help your basement seem bigger by letting in a lot of natural light! At Tri State Mold Solutions, our team is available to install egress windows in addition to our other basement remodeling and repair services. Helping you get the absolute most out of your basement, we provide the professional services you need to make your basement a safe place to live, work, and play. For complete, correct installation from start to finish, our basement contractors are the answer you've been looking for. Call now to learn more about egress windows and your home.
Egress Windows Are Emergency Exits for Your Basement!
Spending time in your basement–whether in a rec room or an unfinished storage space–doesn't seem all that unsafe, does it? But what if a fire broke out in your home? How would you be able to escape? That's why egress window installation is so important. Putting in an egress window creates an emergency exit for your basement and, quite frankly, is the only way to ensure safe exit in the case of emergency! According to FEMA, one death occurs every 177 minutes due to fire… Protect your family and guests by calling Tri State Mold Solutions to install an emergency exit window today. When our skilled contractors install an egress window not only will building occupants be able to escape, but firefighters can also enter to extinguish the fire or look for a missing family member. So easy to operate that even a child can open it, your emergency exit window has the potential to save lives. Don't leave it up to chance: have Tri State Mold Solutions add an egress to your basement for your safety and security.
Installing Egress Windows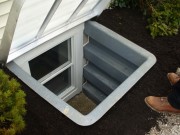 The basement contractors at Tri State Mold Solutions have been in the business for over three decades, and we have the expertise to correctly install egress window systems in existing and new homes. We can safely cut through both poured concrete and cement block foundations to create the opening for your emergency exit window. Our professionals will then securely fit your egress window into the space, properly install the window well and safety lid, and leave you with a fully functional, code-compliant emergency exit for your basement. Unlike amateurs, our experts will make certain that your foundation is not compromised at any point in the egress window install process, making certain that your home is as structurally sound when we finish as when we began.
At Tri State Mold Solutions, we install egress windows and window wells from Escape Windows. In addition to serving as emergency exits, these basement egress window systems provide you with numerous benefits, including:
Complete air and water tightness (provided by fusion welding construction)
Easy, one-handed operation for maximum safety
Ventilation just like a traditional single-hung window
One-piece window-well construction with reinforced ladder steps build into all sides
Safety lids that let light in but prevent people and animals from falling into the window well
Tri State Mold Solutions is proud to offer a lifetime warranty on all of our egress window installs. Because we use the finest quality products from Escape Windows and provide complete, precision installation workmanship, our team can back our emergency exit windows with a full lifetime warranty. Bringing you the very best in security and peace of mind, we're the egress window installers to call when you're finishing your basement. Let us take great care of you!
While we primarily install egress windows for residential customers, we are available to work on some commercial properties, including restaurants, churches, and law offices. For specifics about whether our staff basement contractors are available for your egress window install, just give us a call today.