When your home tests positive for mold, it's easy to immediately feel overwhelmed. After all, mold growth in your home can lead to structural damage, serious health repercussions, and more… But don't panic: call Tri State Mold Solutions and take a deep breath of relief. Our professionals have over 30 years of experience in the mold removal and remediation field, and we can help get your home clean and safe again. Providing complete, correct mold cleanup services, the Tri State Mold Solutions team can even help safeguard your home from future mold problems. So don't let mold in your home be the end of the world. Contact us today for your professional mold removal company in New York's Hudson Valley.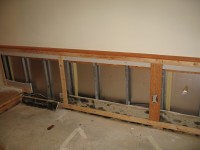 Before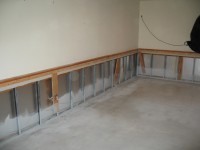 After
Mold can thrive anywhere spores combine with both moisture and a food source. Because daily living like cooking and bathing increases a home's indoor humidity and molds live off of common materials like paper and wood, it can be hard to ensure your home isn't a haven for mold growth. But with mold remediation from Tri State Mold Solutions, we can eliminate mold in your basement and help keep it from coming back—regardless of the presence of moisture or a food source. That's because we use EnviroShield—"The Permanent Solution to Mold"—for all of our mildew mold removal services. This innovative coating will not support mold growth, regardless of the moisture conditions in your basement. So even if the high humidity or leaks persist, your building's mold problems will be a thing of the past.
When you call Tri State Mold Solutions for your mold remediation, we'll first evaluate the scope of the problem with our accurate mold testing service. Once we've determined the location of the mold and the extent of the problem, we'll work to clean up the current growth in the safest, most complete manner. Unlike with amateur mold companies, we'll take the necessary precautions to ensure the mold spores are not spread to other parts of your home, and we won't leave any mold behind to continue creating problems. Using the EnviroShield coating, our mold specialists can get your entire basement clean and mold-free in no time at all. In fact, EnviroShield is approved for use on just about any surface, including: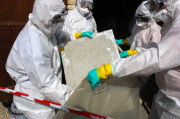 Floor joists
Wall studs
Drywall
Ducts
Cement block and concrete
Even metal (not stainless steel)
That means we can use this amazing mold cleanup system on all of the materials in your basement for complete protection and prevention.
Some of the other particular benefits of using EnviroShield for your mildew mold removal include:
Breathable design. Unlike inferior mold prevention coatings, EnviroShield is a water-based, breathable material. That means it stays fully adhered to your basement walls and continues its antimicrobial function rather than peeling or flaking off in a short period of time.
Affordable cost makes this mold removal system extremely cost effective
Low VOCs mean safe, clean air for our mold specialists while we work and for your family in the years to come
Custom colors. EnviroShield is available in a number of stock colors, but it can also be custom tinted to the hue of your choice. Making it simple and easy to create a polished look in your basement while safeguarding it from mold at the same time, EnviroShield is the smart choice for mold removal.
As the exclusive dealer of EnviroShield in our area, Tri State Mold Solutions is the only mold removal company you can count on to eliminate your current mold problem and keep new mold from growing in the future. In fact, EnviroShield is so good at mold cleanup and prevention, it comes with a 10-year, unconditional, transferable warranty. Providing you with protection for today, tomorrow, and well into the future, Tri State Mold Solutions is proud to provide you with the absolute best in mold remediation services!